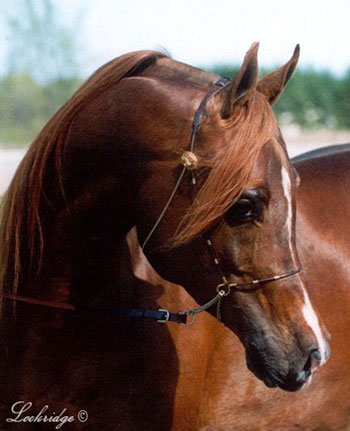 WDHA Reserve Champion High Point
Purebred Stallion

Psyches Flash is just starting to show what he can produce. He was the first step in our breeding program and meets our "ideal" arabian, attention grabbing flashy looking arabian with an exotic head, and gentle disposition. These fine qualities are definitely being passed onto his foals. Psyches Flash is sired by Padrons Psyche, who is the leading sire of halter and performance horses combined. His dam line consists of Gainey breeding proven in halter, performance, and consistency. His foals are being noticed by breeders around the country.

Few quotes from the owners of his first foal crop:

"When I called my mom to let her know we were back, she had spoken to my sister on the phone and my sister told her Fancy was gorgeous. The owner's husband made the comment "she's definitely an Arabian, with that face and my sister said, "oh yeah, she has fantastic bloodlines." So, you can be proud."

"You are to be commended because my sister made the comment to me that she is very well behaved and very trusting."

"She's also exhibiting a lot more stretchiness and showy personality every day. I work her daily in the indoor arena, and she has definitely got an exceptional trot with tons of snorty attitude, she takes everyone's breath away. Lately, she has stretched out several times naturally for halter and really looks gorgeous, I think she will be very competitive next year at the Futurities. She is definitely going to be a phenomenal mare as well as a darn nice filly! I'm so excited about her! She is definitely a once-in-a-lifetime horse for me, I've never met a halter horse with such a friendly, laid back personality that can really turn on the snort for the ring! "

Stud Fee
$1000 LFG
shipped semen available
For more information or to request a video please email kjranch1@aol.com